Hessam Abrishami
Abstract Figurative Artist 
Learn More About Hessam Abrishami
Hessam Abrishami was born in the city of Shiraz, Iran in 1951. He was the son of middle class parents and one of eight brothers and sisters. At age 15, through the encouragement of a high school teacher, Hessam discovered both his love of art and his own talent for painting. As a result, he became almost obsessed with painting.
Hessam, at age 17, received his first award for painting. Then, he went on to win top honors in painting in a student competition in Iran. At age 19, he achieved first place honors in the "Iranian New Artists Competition." In addition, many other world-wide honors and recognitions have followed since.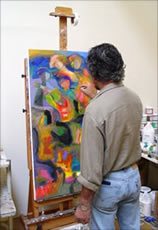 Later, he went on to study in Italy – a place he considered "the center of art in Europe." He completed his Master's Degree in Fine Arts at the Accademi De Belle Arti "Pietro Vanucci."
Hessam emigrated to Los Angeles, California where he continues to expand his creativity. He explores a realm which the French press has called "A statement in the fluidity of human figures. He creates a tension between each figure. A kinship of place or condition that provokes the viewer to seek reasons for such relationships." Hessam is greatly influenced by modern masters from Cezanne to Picasso. Love and laughter, music and dance fill Hessam's boldly colorful paintings.
In sum, Hessam Abrishami has provided the world with images that capture an essence of love and romance.